We all instinctively know that fedex and ups will not try to contact us when a package cannot be delivered..they leave notes on the door.. Therefore please do yourself a favor–do not open the zip files attached to emails from them!!! first of all check the return sender–you see it will not match anything to do with fedex, and ups, and if you want to help stop cyber attacks and bullying– contact the website itself and let them know they have been spoofed..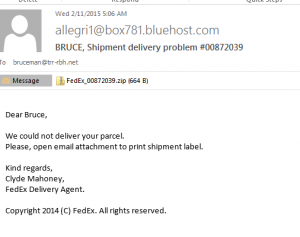 Every year I start my company by thinking; "am I going to make it?" or "Is it all worth it?"; but even after 15 years it is a resounding Yes I choose to continue. The computer service, the photography, the cinematography, the network management, credit card processing all to assist my clients in any way i can. I look forward to assisting your companies growth in 2015 just as you let me do in 2014!
–Bruce
In this day and age where the hackers are not just trying to get your credit card information, but lock you out of your own computer, download these great free-wares and help keep your system clean. These are NOT the sole answer but they can sure help fight the fight.
if you decide to pay for each of them, the "paid" version does add to the program, but it is definitely not a necessity